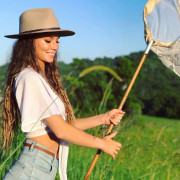 Kaili Larkin
Artist, Biologist, Model, Actress…
I am an Entomology graduate with a passion for the natural world. My love of nature bleeds over into my creative outlets such as painting and sculptures.

Professionally- I range from acting/modeling to education in the biological sciences. I also enjoy writing, martial arts, dancing, and working with children.
---
You can click the links to my Instagram accounts to see more photos related to my: 
Artistic Creations (Purple)
Biology Interests (Green)
Modeling Work (Pink).
---
Artist 🎨 Scientist ✨Entomologist 🐛 Plant fanatic 🌿 Cruelty free 🐇